Home
Our Mission: To advance quilting through education, perform charity work involving quilts, and to share our collective knowledge with fun and celebration. Quilters By The Bay was founded in June 2005. We are a non-profit organization 501(c)3.
Quilters of all skill levels and interests are welcome and membership is open.
----------------------------------------
 Meeting Time:
   6:30-9:00pm, 4th Wednesday

 Meeting Location:
   Pierce County Environmental Services Building
   9850 64th St W.
   University Place, WA 98466  (Map)

 For more information please visit our Meetings page.
----------------------------------------
Join us today! Dues: $35/year
Mail Membership Form and check to: Quilters By the Bay, PO Box 65427, University Place WA 98466
Or bring the form to a meeting.

Contact us at: quiltersbythebay@gmail.com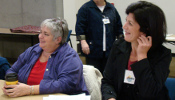 Service
This year's QBTB service projects benefit Mary Bridge Children's Hospital.
Help Others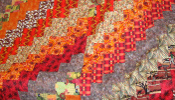 Meetings & Programs
Many of our meetings feature an informational program and a "Show and Tell" segment.
Sometime during the year members are presented a quilters "Challenge Project".
Learn More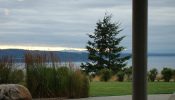 Directions
We meet once at month at the beautiful Environmental Services Building.
Come to a Meeting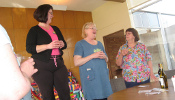 Retreats
Our biannual retreats offer something for every quilter.
Join the Fun